Types of Commercial Trucking Accidents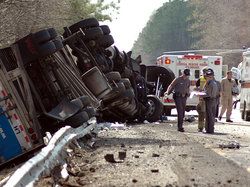 The personal injury attorneys at Charpentier Law Firm have extensive experience handling commercial truck accident litigation. With offices in Titusville, Cocoa, and Melbourne, they are here to help residents of central Florida file commercial truck accident claims. Personal injury law allows for the recovery of the costs associated with these types of accidents. Our truck accident attorneys will investigate your claim to determine who is at fault, and provide strong evidence to support your claim.
In this blog post, we review the common types of commercial truck accidents.
Type of Collision
There are many types of truck accident collisions that may occur. These include:
Rear End: A rear end collision occurs when a vehicle slams into the back of the car in front of it. When a smaller car is hit in the back by a large commercial truck, it can cause far more damage than a collision with another small vehicle such as a car, minivan, or even pickup truck. When a commercial truck rear ends another vehicle, it could be caused by faulty brakes or driver inattention.
Head On: Head on collisions are often the most deadly. A head on accident occurs when two vehicles are driving toward one another and the front end of the two vehicles collides. Head on collisions may occur if a driver is speeding, falls asleep at the wheel, or is driving in some other type of reckless manner.
Side Swipe: Side swipe accidents often occur when a driver attempts to change lanes at an unsafe time. These accidents may occur due to blind spots.
(T-bone): A T-bone accident refers to accidents in which the front of one vehicle impacts the side of another vehicle, so the two vehicles form a T-shape at the time of the collision. T-bone accidents may occur at intersections after a vehicle runs a red light or a stop sign, or fails to yield the right of way.
Rollovers: Due to the size and height of commercial trucks, they are prone to rollover. Rollovers may occur as the result of speeding.
Jackknife: Jackknife accidents occur when a commercial truck begins to fold inward; that is, the cab of the truck turns in toward the trailer. These accidents are common when commercial trucks brake suddenly.
Under-ride: Under ride accidents are particularly terrifying. They occur when a small vehicle hits the back of a commercial truck, causing the smaller vehicle to become wedged beneath the truck. This type of accident may occur after a commercial vehicle truck brakes suddenly.
Lost Load: If a commercial vehicle's load is not secured properly, its contents can spill onto the road or surrounding vehicles. Accidents may occur as other vehicles swerve to avoid getting hit by the truck's contents or after impact with debris or property that has fallen onto the roads.
Type of Truck
There are many types of commercial trucks, including:
Semi-trucks, in which the contents of the truck are enclosed
Flatbed trucks, in which the contents of the truck are visible and should be properly secured
Tractor-trailer trucks
18-wheelers
Catering food trucks
Car carrier trucks
Concrete pump trucks
Dump trucks
Oil tank trucks
Septic trucks
Refrigerated trucks
This does not comprise a complete list of the types of commercial trucks that can be involved in accidents. For more information, contact Charpentier Law Firm today.
Related to This