Personal Injury Lawsuits and Internal Injuries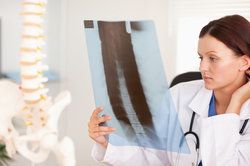 The lawyers of Charpentier Law Firm are committed to accident victims and their loves ones. We have helped numerous clients in and around Central Florida, fighting for the legal rights of accident victims and filing lawsuits to obtain damages for injuries.
While broken bones and major injuries to the spine are very severe, damage sustained to your internal organs can be extremely serious as well. This is something that we'd like to focus on in more detail right now.
Internal Organ Injuries Can Be Extremely Serious
Internal injuries refer to any damage to the organs that is sustained as a result of trauma. The internal organ injury can the result of blunt force, punctures, and trauma sustained from the jarring of organs against bones and other structures of the body.
Some forms of internal injuries include:
Traumatic brain injury (TBI)
Injuries to the liver and kidneys
Trauma to the chest cavity
Severe damage to the digestive tract
Common Causes of Internal Injuries
Some common causes of internal injuries include:
Auto accidents
Bicycle accidents
Pedestrian accidents
Sports injuries
Occupational injuries
Serious slips and falls
Assaults and physical altercations
Medical and surgical mistakes
Given the above, it's important to wear any and all safety gear and protective wear appropriate to an activity, such as pads and head protection in contact sports and helmets on a motorcycle. This can help you prevent more serious harm to your person in the event of an accident.
Internal Bleeding Is Also a Serious Matter
In addition to major damage to the organs in your body, another serious concern with regard to internal injuries is internal bleeding. This refers to the loss of blood due to internal bodily damage. If left untreated, a patient can go into shock and cardiac arrest.
Detecting and Treating Internal Injuries
It's important that emergency medical professionals carefully assess the condition of a patient who has suffered major trauma in an injury accident or other kind of harmful incident. X-rays and other diagnostic tests should be taken to determine the extent and nature of all injuries sustained. Careful and attentive treatment can prevent tragedies.
On the note of medical professionals, they should be held to high standards of care and should not be let off the hook if their treatment--surgical or otherwise--results in some form of organ damage or internal bleeding.
Our Legal Team Will Fight for You
If you have sustained a serious internal injury as a result of another person's negligence or inattention, we will help you file a legal claim against the negligent party. We will seek damages to hold the negligent party accountable and to cover expenses and hardships that you have had to endure. If you have lost a loved one due to a severe accident that resulted in fatal internal injuries, we will seek damages for funerary expenses as well as the emotional hardships of having lost someone that you care about.
Speak with the Personal Injury Attorneys of Charpentier Law Firm
For more information about your rights in a lawsuit involving internal injuries, be sure to contact our team of personal injury lawyers today. The legal team at Charpentier Law Firm will help you fight for your legal rights every step of the way.
Related to This